What is BeeUp's teaching approach?
We believe that students learn best when they tackle activities on their own and then reflect on their experience. BeeUp therefore follows a constructivist teaching strategy, which poses real-world problems to students, provides the tools to allow them to solve these problems, and encourages students to tackle them head-on.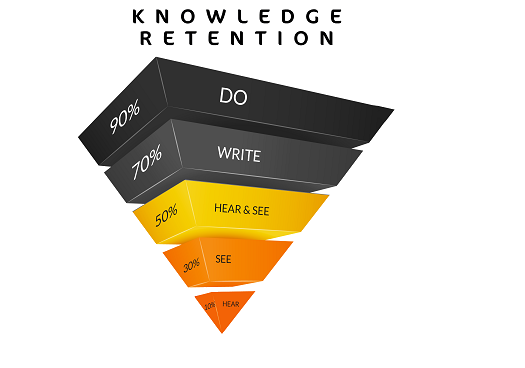 Source: Weidemann, 1991, S.13 f.
Where do our learning resources come from?
BeeUp's learning resources are drawn from the real world, which fosters social, professional, and methodological competencies. BeeUp provides real BeeUp case studies based on the actual challenges facing our business partners. This means that students can apply and develop their skills on the genuine problems of real businesses. 
In order to demonstrate their professional competencies, we think that it's imperative for students to develop practical and client-oriented solutions. BeeUp is specially designed to help students do this.
The methodological competencies that we help teach are directly related to key professional competencies. These show that the student is able to develop a solution that applies proven theories and methods. 
Social competencies – team working skills - are developed as students engage with each other in virtual teams, work with peers, and integrate topic experts into their groups. 
Who is the BeeUp Coach?
The BeeUp Coach knows the client, and is responsible for marshalling the outcome of the BeeUp case study. The coach has access to all the current solutions and guides the BeeUp teams with questions, hints, and additional information in order to help teams design a high quality solution. He also asks the business questions on the behalf of the team if it's necessary. 
How do the BeeUp-Coach and you - the business teacher - work together?
You - the business teacher - are responsible for setting your students' learning goals. If you judge that our case studies are useful and relevant to your class syllabus, then please contact us. 
Together with the BeeUp coach responsible for our teaching methods, you can carefully select the case which best fits your intended learning outcomes. You will receive a special BizTeacher-Account on BeeUp that gives you the functionality to closely monitor and supervise your teams. We can also organise a common project launch for your class. While the class progresses through their case study, you and the BeeUp coach will co-ordinate feedback to the class to ensure that their learning experience is of the highest quality. 
How is class performance rewarded?
Each action performed on the platform adds to the business knowledge and experience of your students. Because our BeeUp case studies are real, this experience directly aids your students' employability. BeeUp also formally documents the experience and achievements of your students by offering the BeeUp-Certificate. The BeeUp-Certificate helps your students to highlight their unique experience in future applications.
How can I apply BeeUp in my class?
Would you like to use BeeUp in your business class? We are happy to contact you!
We look forward to supporting your teaching with our own experience and specially designed platform. We want your students to receive the best possible learning experience that will give them the best possible start in their professional lives. 
• We help select the BeeUp cases which are most relevant to your learning goals. 
• We prepare the learning materials which fit the BeeUp case study and your own specific learning goals.
• We can organise a common project-launch for your class.
• We can help you to coach your class in full cooperation with you.