What is the sustainability challenge?
When we speak about «sustainability», we define it as "doing business within the limits of the environment".
In the long-term vision, that leaves us no choice but to get from a linear value chain to a circular value chain:

The basic idea for the transformation from a linear to a circular economy seems simple: reduce the extraction of fossil resources, avoid end-of-life losses, and at the same time enable the true recycling of plastics (Innovations Report, 2018).
We see three possible paths to transform our businesses to reach sustainability, all three being interconnected:

-    Value Chain Transformation
-    Business Model Innovation
-    Technological Solutions

In Value Chain Transformation, you go from linear value chains to circular.
In Business Model Innovation, you satisfy customer segments' needs in sustainable ways, introducing new pricing models and new ownership models.
Then, you use technology to ease value chain transformation and business model innovation, and you also use it in your current business to reduce your environmental fingerprint.

The challenge of an organisation is thus to transform value chains, business models and incorporate new technology… all simultaneously. Which is a challenge.
So, the essential tool to a sustainable business is a transformation management system - our transformation rail for example.

Use the BEEUP transformation to turn your organisation into sustainable
We believe organisations must balance agility with hierarchy, and to do that; we propose the following process:

Foresight: Agile teams should be legitimised by the results of an open strategic foresight challenge. The challenge results in identifying opportunities and people who propose new value chains, business models and/or technologies. You measure the best proposition against the current state. For example, the best proposition balancing CO2 emission with other targets is compared to the market state. If the difference between the best proposition and today's state is high, it needs to be implemented. If not, which is probably unlikely, there is no need to turn your organisation to "agile".

Strategic implementation: When empowered, the small agile teams can achieve great things in short time. While helped by many bright minds from your organisation and from the whole world with our unique crowdsourcing process, your teams act fast but not in tunnel vision. With OKR and sprints, they transform your business step-by-step to the desired outcome of CO2 neutrality or whatever your foresight came up with as a target.

Structure: Your teams' successes are freezed in the structure of the organisation as frequently as possible. This approach prevents the so-called boomerang effect. The boomerang effect occurs if an organisational change is driven by visionary leaders but drops back to square one if the leadership changes.

This way, step by step, your organisation turns into a sustainable organisation: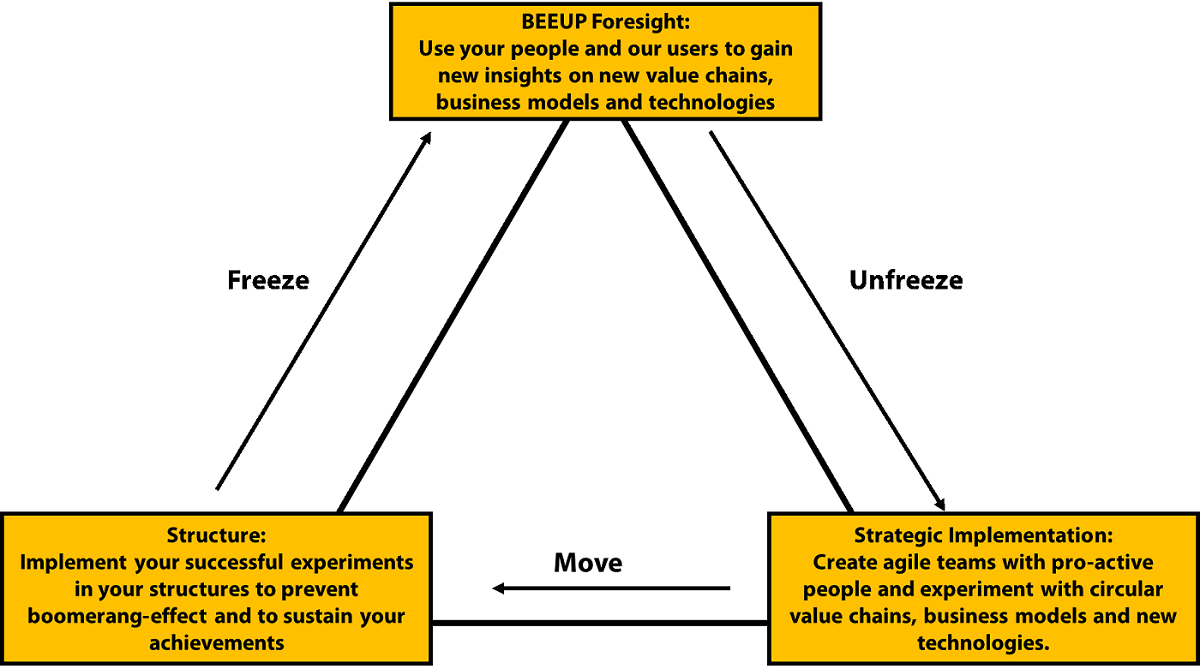 Why this approach?
You don't decide to change a business model, value chain, or to adopt a technology. You call the most brilliant people in your organisation, and in the world, to do that. That approach gives you a big legitimation plus.
You see if the best proposition makes sense compared to the state of the market.
You legitimise any change by giving equal access to success stories to anybody.
You identify the best teams in your organisation and beyond for implementation. For example, the best team might consist of a not-yet-known geek in the financial department, a marketing intern and a PhD candidate from a university.
You break down the foresight to tangible OKR goals for your teams, increasing the reliability of leadership.
You freeze the achievement frequently. Because of your open foresight challenge at the beginning, you have gained the legitimisation to do so.
In the end: You reduce your workload. You only need to decide how to organise and staff your people. With the BeeUp transformation rail, the rest is an autonomous drive towards a sustainable business.
Please contact me to share your experience on transformation and to discuss transformation in more detail. Please find the contact details above.