Two sides of the coin: The BeeUp Case
Case study and task
A phone call via Skype
You are a strategy consultant and are responsible for a project with the BeeUp platform. To understand the details of the assignment you meet CEO Michael Czarniecki on Skype. Michael explains his conception of two-sided markets to you, which he thinks will be an important concept in solving BeeUp's problem.
Markets with network effects
The more people that sign up to Skype, the greater the number of Skype-members that can be reached by an individual user. This means that Skype's value for the individual user increases with the overall number of users. This is known as the network effect. However, products with network properties face a huge problem: when these products launch, they do not have any users and therefore don't have much value for early adopters. A specific threshold in total users has to be met before the product starts to offer value to individual users.
Two-sided markets
Two-sided markets are markets in which one party only benefits from the product offered if another user (for instance, from another industry) also uses that product. Consequently, two-sided markets are a special kind of market with a network effect. A typical example is credit cards. A market for credit cards will only be successful if the card is accepted by retailers and consumers. If one of the parties withdraws from this arrangement the market will also collapse for the other side because the value proposition can no longer be met.
BeeUp on the two-sided market  
Over Skype, Michael explains to you: "You see, on the one hand BeeUp helps companies with finding and implementing new ideas and talents for their business development. However, at the same time this concept also supports people who want to improve their skills in a business context. If BeeUp fails to find companies with business development issues, the platform will be empty and no-one can participate in successful projects. If, on the other hand, BeeUp doesn't manage to find anyone interested in self-improvement, companies won't benefit from the case studies they publish. 
What I'd like from you is either a successful marketing concept that mobilises both parties, or a response to the problem in the form of strategic partnerships ".
You say: "I do understand your Marketing problem. But what do mean by "strategic partnerships"?"
Michael replies: "If we are able to gain strategic partnerships which might help us to increase the number of users or companies, then we wouldn't have to rely on marketing alone. I don't know which of these measures is more effective: those related to marketing or those related to key partner management. To show you what I mean, I'll send you BeeUp's simplified Business Model Canvas including both problem areas, as I have it in mind at the moment ".
You are provided with the document below: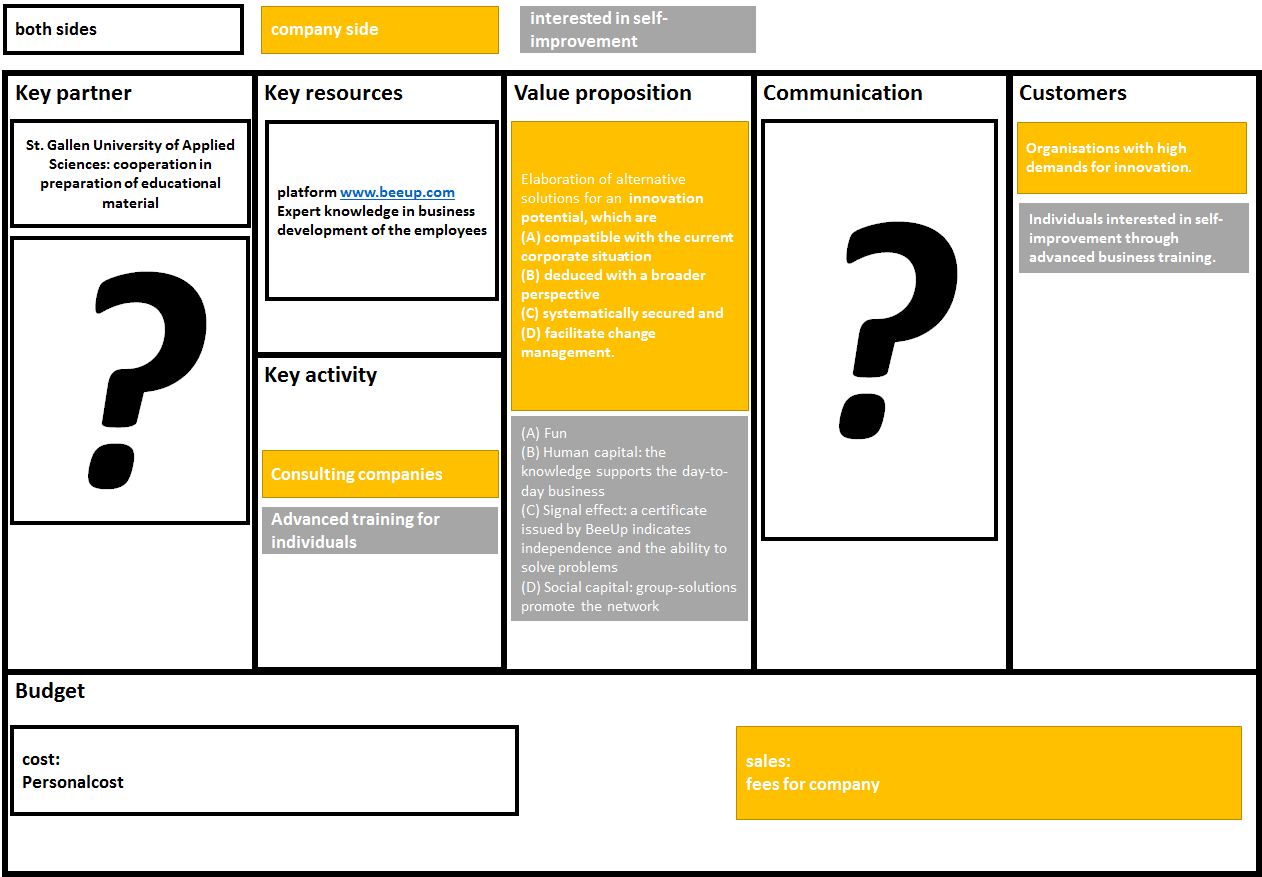 Figure 1: business model Canvas for B, structurally based on (Osterwalder, Pigneur, & Smith, 2010)
You reply: "Thank you! I'd like to focus on measures related to marketing. This issue is by itself quite tricky because it features both, B2C as well as B2B characteristics". You use the following draft to clarify it to Michael: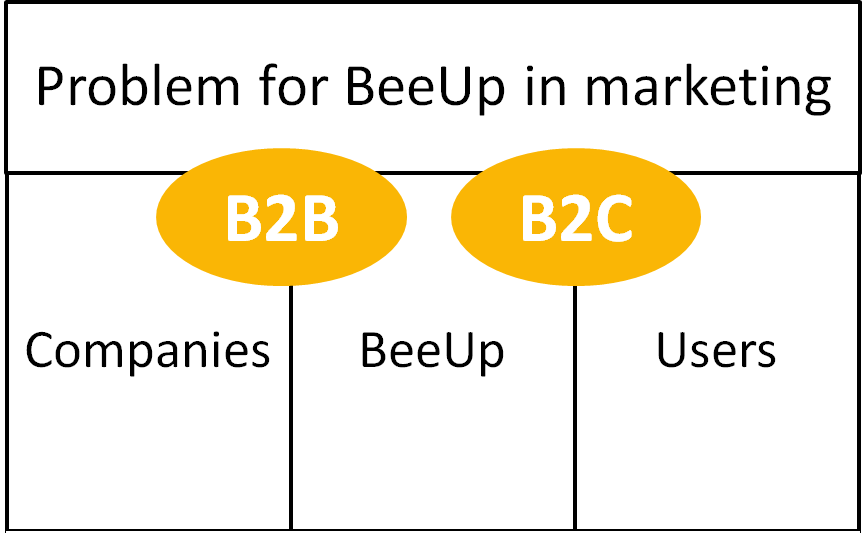 Michael says: "Please do so! And don't hesitate to call me if you need my support".
In cooperation with your coach you proceed as described below:
• You set up a team consisting of parties interested in B2B- and B2C-marketing.
• The team applies creative techniques. Think of the relevant segments and their respective influencers ("influence the influencer"). And don't forget "inbound marketing", which is becoming increasingly significant when it comes to marketing digital services.
• Once you have defined specific segments decide on the communication tools to be applied to work on the defined segments.
Assignment:
1. Read the case
2. Study the background materials
3. Check your knowledge by completing the multiple choice questions
4. Create a team that has the necessary skills to solve the case, or join an existing team
5. After you have successfully gathered your team you will be invited to a webinar by your supervisor
6. Solve the case as detailed in the assignment
7. As soon as you have completed the case, your work will be evaluated by instructors, experts, and your team members, and you will receive a certificate and feedback
Task:
1. For this case decide if you want to work on the user side, the company side, or both sides. Limiting your focus is often a formula for success.
2. Prepare the following document:
• 1st section: Users. List potential groups of users who have a need for ongoing education in a business context. Prepare three of the four P's of the marketing mix for those groups. The pricing has already been fixed: further education should be offered for free.
• 2nd section: Companies. List potential groups of companies who have a strong need for innovation. Which B2B instruments could be used to reach the right contacts within these businesses?
• 3rd section: Goals and actions. Formulate goals BeeUp should reach for on both the user and company sides. Use these goals and the marketing mix (see sections 1 and 2) to draw up specific actions on the user and company sides. Estimate the costs of these actions as well as their potential benefit for BeeUp.