Pervasive learning
Case study and task
INTRODUCTION
"Crowdcrafting for labour market integration" is supported by the Drosos Foundation. The Drosos Foundation is committed to enabling disadvantaged people to live a life of dignity. The Foundation focuses on the development and strengthening of life skills of disadvantaged children, young people and young adults by promoting creative and economic independence.
The Drosos Foundation is supporting this project, which aims to investigate whether an innovative teaching method of pervasive learning" is suitable in helping vulnerable young individuals achieve solid career prospects. The project focuses on vulnerable adolescents up to the age of 25 who have lost their way and are unable to find employment. An inability to participate in the labour market is often associated with psychological and negative social consequences. 
Types of vulnerable young people can refer to:
The unemployed

Alumni unable to integrate into the labor market

Delinquents

Youngsters with no education degrees accomplished

Addicts

Others
Social workers sometimes explain the difference between vulnerable and successful young people by the fact that the latter benefit from guidance from role models who both challenge and support them. If such role models are absent, vulnerable young people might look for role models in the "wrong" places. This can reinforce exclusion from the job market (e.g. formation of gangs and even criminal activity). A "role model" is someone who shows, explains and clarifies the challenges of the world and motivates young people to solve them. A role model also highlights possible solutions to those challenges and offers support.
Pervasive learning environment: back to individual training through role models?
Today, it is customary for groups of the same age and level of development to learn together. This can be traced back to the Taylorist organization of vocational and basic training: to develop a young democracy in the 19th and early 20th century, it was most effective to convey basic knowledge in homogeneous groups: same age, same learning content. Standardization. In the 21st century, almost anyone can acquire this basic knowledge easily via Massive Open Online Courses (MOOCs). Digitalization thus substitutes to a certain degree the current learning environment, but it offers also chances to shape it in a way which includes less fortunate individuals, or in other words: to make the learning environment pervasive through different social, age and geographic units.  
A pervasive learning environment provides opportunities to give vulnerable young people the role models that will facilitate a path to employment, and therefore a path to a fulfilling career and to independence.
Now vs. where we'd like to be 
For the above-mentioned reasons, there is a high homogeneity in teaching units nowadays. 
Hence, topical questions arise:
"How can transform existing teaching units so that they convey role models?"
"Is there a way to achieve this with the use of digital technologies?"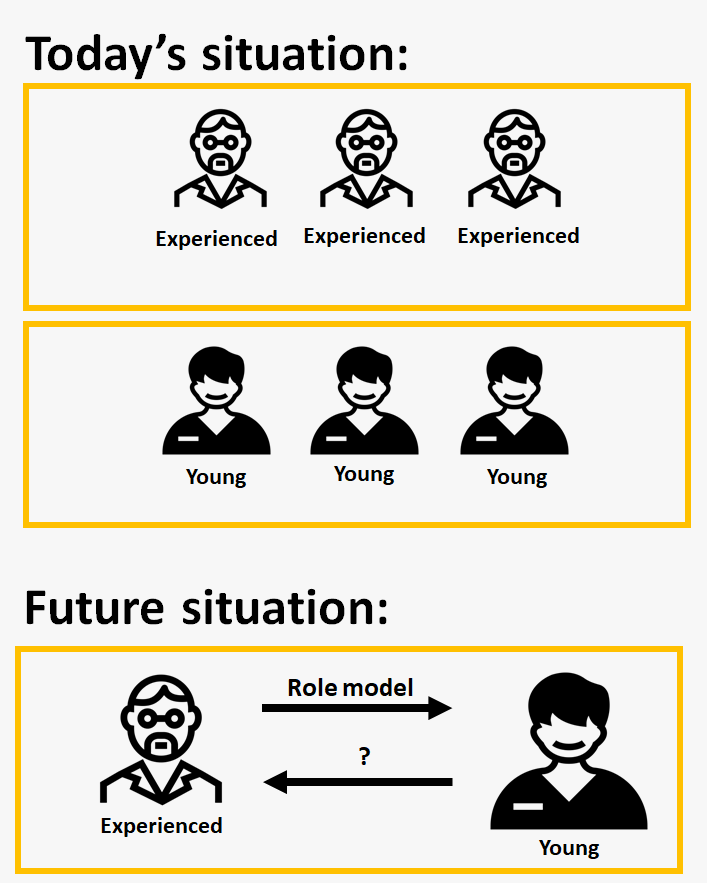 Illustration 1: Homogenous vs. heterogenous teaching units. 
Your assignment
Mixing "role models" and "vulnerable youth" should provide value to both groups and also solve a social problem. But for the concept to be economically sound and sustainable, according to Muhammad Yunis, it must generate marketable value. This is the basic premise of a "social business model". High returns on investments are not necessary, but the business model must at least be able to self-finance its own activities and resources. 
According to the business model logic, the combination of the two groups should be viewed as a resource. The interaction of role models and young people must generate value, which can then be monetized. 

Illustration 2: Young people benefit from the role models when adults act as their mentors. This interaction produces value, which should be transformed into a social business model to ensure the financial sustainability of these activities. 
The outcome of a viable model is as follows: A pervasive learning environment that generates value both within the team (mutual stimulation in the creation of skills and competencies) and outside the team (through a marketable product or service). Selling the product increases the self-esteem of the team, adding to its skillset, as well as boosting individual self-motivation. As a result, the employability of participants is enhanced. 
A viable business model must have the following properties:
It integrates role models with vulnerable young people.

It is self-financed after initial investment from the foundation which enables the sustainability of the model.
An approach to this case might be as follows. Our template might help you.  
Step 1
Study the teaching materials for the "value proposition canvas". Paraphrase the assignment in a few sentences. Wait for the feedback of the coaches.
Step 2
Choose a group of the vulnerable young from the list above or come up with your own one. Identify and describe the needs of your groups. 
For example, try to define what makes them happy? What troubles them? What activities do they pursue throughout the day? This is important so that you can integrate your new model into existing needs.
Step 3
Using a creative process, try to integrate diverse mentors into the lives of vulnerable young people. Also, think about digital means.  But do not forget: also mentors have their needs which must be addressed. 
Step 4
As you have come up with the needs and expectations of the target groups, it is time to develop one or several possible services which are based on the needs which you have identified. 
Create a lot of the services, so that you can choose the one which suits you best. Your service, if possible, should be self-sustaining after an initial investment. Present your business model in a business model canvas and check out if it is so. 
If you have any questions, contact a BeeUp coach at any time by pressing the following key. 
Your coach will respond to your questions within 48 hours.