New Impulses in Pharma Marketing
Case study and task
The initial situation
Opposite you sits a man of vivacious nature: A little stocky, always with a contented smile, a guy in his mid-fifties. His few remaining hairs are combed and clean. His name is Fred. You are both sitting in a restaurant. Fred orders raw pork to have cooked in front of him on a hot plate. He's also having a large, frothy beer. You sit opposite him, eating salad and drinking water, because, unlike Fred, you're paying attention to your figure.
Fred leads the marketing department of a pharmaceutical company with 420 employees. He trusts you and knows that your creativity has delivered results time after time. After ordering a bowl of French fries he tells you about a problem that's been bothering him for a while.
"Look, actually the situation could be wonderful for me: The Executive Board has decided that we need to grow. I love growth targets! With a clever marketing strategy, they're easy to achieve, but there are hurdles. "
The hurdles in marketing
Fred's company' business model is established as follows within the pharmaceutical industry: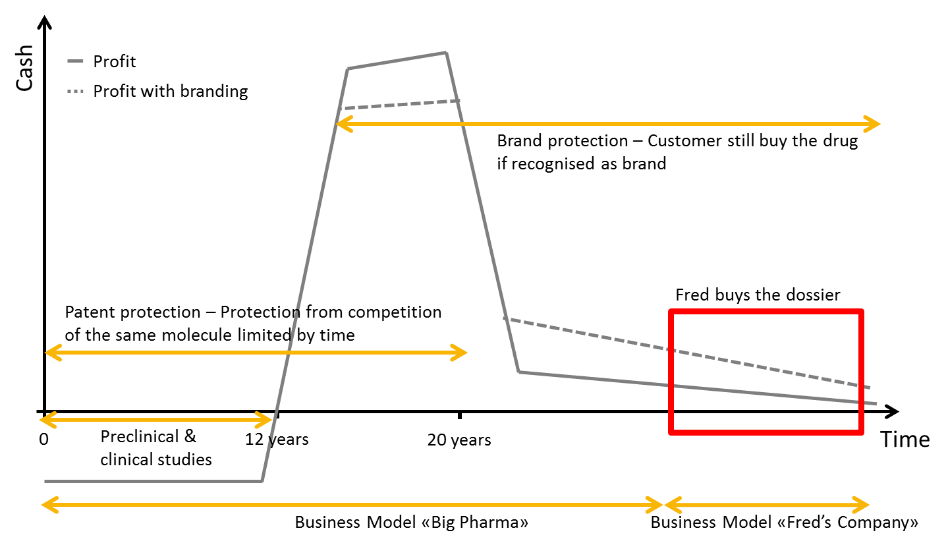 In effect, this means that once a product for Big Pharma (e. g. Novartis, GSK, etc.) has reached the end of its life span, these large companies sell the marketing authorisations and trademarks (known as "dossier") to companies like Fred's. However, Fred's problem is that "The market for these dossiers is very thin: There are often few sellers on the part of Big Pharma, and many potential buyers. Our management then makes a return on investment calculation: If a dossier generates an ROI that exceeds a predetermined threshold, then the dossier is purchased. As a result we have bought dossiers without considering the overall effect on our dossier and product portfolio. Lately, however, we have chosen to focus increasingly on the area of "Women's Well-being," and have acquired two dossiers in that sector:
• A dossier for the reducing itching in the genital area (target group young women).
• A dossier in the area of women 50+ against osteoporosis (bone loss)
Fred has now been tasked by the management to break down the marketing of the two dossiers in the "Women's health" area. He has taken control of the diverse brands from the dossiers and is responsible for marketing them. It is difficult to manage a heterogeneous product portfolio: maintaining a marketing focus is challenge. Fred says: "Our marketing budget is limited. Because of this we focus on brand X one year and on brand Y the next. Seasonal fluctuations add to the complexity of our marketing efforts. We don't have a strategy like Coca-Cola, which can promote its brand by any means available."
You answer: "I do know a little bit about your company. Your primary strength is that your employees maintain a great relationship with the pharmacies. Friendships are created, and they are able to build a close network. Actually, you should be able to replicate this and succeed in the same way with your end consumers in the Internet age."

To visualise your task, you outline the value chain on a sheet of paper:

Fred looks at you and the smile on his face grows. He says: "Please go on. I find the topic of social media and Internet really interesting. How do you think we can build a friendly relationship with our customers like we have already with the pharmacies and drugstores?
Assignment:
1. First create a document. Using the starting position, describe the 4P's of the marketing mix for Fred's case. Contact your coach if there's any confusion.
2. Next, explain the trends that are important within the 4P's (e.g. social media in promotion, "internet of things" in place etc.).
3. Apply creativity techniques (e.g. mind mapping) to find new ways of designing the current marketing mix that you created in item 1.
4. Write up your results. Your outline can follow the structure shown here.
Tasks:
1. Read the case
2. Study the background materials
3. Check your knowledge by completing the multiple choice questions
4. Create a team that has the necessary skills to solve the case, or join an existing team
5. After you have successfully gathered a team you will be invited to a webinar by your supervisor
6. Solve the case as detailed in the assignment
7. As soon as you have completed the case, your work will be evaluated by instructors, experts, and your team members, and you will receive a certificate and feedback.